As a mom I'm careful about what I feed the tummies in my house (this goes for us 'grown-ups' as well).  I'll admit I am not always on the ball when it comes to this, there are just so many junk food commercials and ads tantalizing us–it's hard to stay on track!
We're always on the go, so quick and easy snacks are the best option for us.  When I was given the opportunity to review Green Giant Veggie Snack Chips, I was skeptical.  Sure they're convenient, but could they be good?
Green Giant has a surprise talent: New Veggie Chips,
and they're DELICIOUS!  As simple as grab a bag and run out the door to the baseball game (in our case), school, a long car trip–anywhere you want an fast and healthy snack!
 I really feel good about being able to give my kids a snack that's good for them, and not just another loaded-with-bad-stuff bag of chips:
The Green Giant™ Roasted Veggie Tortilla Chips – Zesty Cheddar Flavor are made with real vegetables, 17 grams of whole grain per serving (48g are recommended daily), and are naturally flavored.
The Green Giant™ Multigrain Sweet Potato Chips – Sea Salt Flavor are made with real sweet potatoes and made with 14 grams of whole grain. Plus, they contains 40 percent less fat than regular potato chips*!
*Green Giant Multigrain Sweet Potato Chips (6g per 28g serving) have 40 percent less fat than regular potato chips (10g per 28g serving).
The boys really do love them, what more can a mom ask for?
Now that the warmer weather is just around the corner, I bet I can use Green Giant Veggie Chips to make nachos or to substitute the tortilla chips in my Mexican Lasagna recipe! Maybe with a side of salsa, guacamole, or even as a side to a summer backyard bbq burger.  There are so many possibilities!
Now that you know what Green Giant's surprise talent is, check out surprise talents the Green Giant has unearthed on You Tube!  Go to Green Giant's Facebook page to submit yours!
Try Green Giant's Veggie Chips for yourself, you'll love them!  Click here for a coupon to get you started!
What are you doing to ensure you have a healthy and convenient snack for your family?
Linking up here &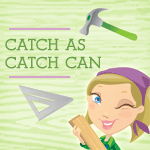 Thank you to The Green Giant™ for being a sponsor. Show the Giant your surprise talent atwww.facebook.com/greengiant