Hey, hey!  Happy Monday!
We love craft/DIY/decor blogs.  We follow their tutorials, try their recipes, read about their latest crafting adventures, their kids, their lives, and more.  We get to know these bloggers and in some cases start talking about them like they're our friends, even those you've never met (guilty).  Have you ever wondered what blogs your favorite Bloggers are reading?  Where do they get their inspiration?  Better yet, before they were Bloggers, what was the blog that motivated them to start their own?  I've often wondered this myself, so I decided to find out!
I asked some of my bloggy friends…."Who was your blog inspiration?"
Ashley at Simply Designing said:
"When I was on bed rest with my second child I discovered the whole world of blogs!  I had no idea this whole blog-world even existed!  The first three blogs I found where Not So Idle Hands. The Idea Room and Design Dazzle.  I instantly fell in love with these blogs and these women and had the grand realization that crafting can be fun, stylish and simple!  From there I found many more blogs that inspired me to start my own blog!  Now I have a too-long list of blogs that continually inspire and move me and I have found so much joy and fun in following many wonderful and amazing blogs and getting to know so many fabulous women!"
Meredith at Wait Til Your Father Gets Home said:
"The blog that inspired me the most was Young House Love .  I was so inspired that the blog is written by a married couple and that was just what they do for a living!  How amazing is it that they get to work on DIY projects around their house and other people are interested in what they do?!  They've got a great voice in their writing and always entertain me.  I love that they share a peak inside their real life by sharing with their readers, their dog, Burger, and their daughter, Clara, who might be the cutest little girl ever! I had the honor of meeting John and Sherry recently at their book signing in Atlanta!  Sherry rubbed my belly and predicted I was having a boy!  I'm supposed to contact her after the baby is born to let her know if she was right or not."
Gail at My Repurposed Life said:
"It's been a long road for me!   I first found blogs in the spring of 2009.  Joys of Home was the blog that got me hooked!  You can see why in her other blog Enjoy your Home.  It's a pictorial that shows just why I loved her blog!   She was the reason I started to blog. Sure, there were others, but many have since quit blogging.  We know firsthand how much time it takes to do what we do.  I don't know how so many Moms can keep it up.  I guess some can't, and that's why they're not blogging anymore.  So, you know the name of my blog  🙂   My Repurposed Life-I am in the process of repurposing my life after a lot of life changes.  I'm in my mid 50's and just figuring out how much fun life can be!"  
Karah at The Space Between said: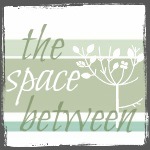 "My blog inspiration was Sarah at Thrifty Decor Chick. I first saw a project from Sarah featured on a Nate Berkus episode and got hooked for a few reasons; Sarah is extremely down-to-earth and expresses an attitude on her blog that she is just an everyday girl who likes to try her hand at DIY.  She has dabbled in all levels of difficulty of DIY projects, one day we could be looking at a home improvement idea and another we're watching her make a super simple Christmas craft … that girl loves some Christmas!!  And, she's very relatable. She discusses her former debt issues, life with a step child and parenting in this day and age.  Just your average person who made it big with her own little blog.  Very inspiring if you ask me. :)"
Meegan at What Meegan Makes said:
"When I started reading blogs about 6 years ago, and before I started blogging, there was a blog that caught my eye right off the bat;
Dreamy Whites
. What I liked most about
Dreamy Whites
 was the crisp simplicity of Maria's taste, the photos were like a ray of sunshine, and her blog inspired me to change my own home decor to softer whites and light blues.  Since browsing through her blog, my taste and style for our home has changed for the better. I have started using vintage and thrifted items.  Something I always liked, but never thought I could implement into my own home.  Thanks Maria for inspiration and inspiring me to share my ideas and creativity with my own blog,
What Meegan Makes
."
"I think the blog that inspired me the most was one I came across when I first started couponing.  She wasn't just a couponer, she also was organized and her love for others was genuine.  My inspirational blog is Money Saving Mom.  Some of my favorite things about her blog are that she is genuine–she doesn't share things that she hasn't already tried and proven herself.  She is honest-if she doesn't know, she'll let you know.  She is original-all her posts don't look the same, she has a variety of interests and shares what she has learned with her readers."
Sarah at Becoming Martha said:
"The first craft/DIY blog that I discovered was Shanty 2 Chic.  I loved all of their projects, but the one that made me fall head over heels was this mirror that Whitney created for her niece.  I thought "Hey, I could do that!" and off I went to find a mirror to transform (which by the way, is still sitting untouched in my storage room).   After that, I was hooked on craft blogs and started my own shortly after discovering Shanty 2 Chic."
Chelsea at Making Home Base said:
"One of the blogs that most inspire me is Lolly Jane. Kelli and Kristi are so talented and SWEET. I love that they can take something simple and turn it into something fabulous. I also love how down to earth they are; reading their blog you know that they are normal moms making their home beautiful with DIY, budget friendly projects that anyone can accomplish. And they are so approachable, making you feel like a friend, not just a reader! Love those girls :)"
I'm a fan of so many of the sites mentioned here.  I loved learning what encouraged my bloggy friends in their crafting, decorating, and blogging!
If  you're curious as to which blogs have inspired little ol' me….
The very first DIY/Home Decor I stumbled upon was Thrifty Decor Chick, for the exact same reasons that Karah mentioned above, I love everything about Sarah at TDC!  Still a HUGE fan!  She is so funny, and down to earth.  Plus I love her decorating sense, and style!
Secondly, I stumbled upon Infarrantly Creative.  I fell in love with Beckie's style, and was able to easily relate to her.  She's a REAL person, lays it all out there, and has fabulous taste to boot.  I love that she loves Jesus and openly shares that with her readers.  When I met her I felt like I had known her for years!
Tatertots and Jello for me is a fabulous blog because I could always count on Jen to provide me with great craft or decor inspiration any day of the week.  She always keeps her content fresh and exciting, I look through TT&J  to keep up with the latest in trends.  Another amazing trait about Jen is that she is always SO responsive, and genuinely sweet to her readers.  Love her!
I was blessed to have met two of my top three faves a few months ago at the CHA in Anaheim; Beckie from Infarrantly Creative, and Jen from Tatertots and Jello} Eeeek!!! I still can't believe it:)  They are exactly as awesome in 'real life' as they seem to be in their blogs.  Love them!
More blogs I faithfully read before I started blogging (still do!):
Cleverly Inspired-I discovered this amazing site as I was on the hunt for Christmas craft ideas a couple years ago.  Tracie's Wine Bottle Christmas Display post is an easy tutorial for Christmas on the cheap!  I thought 'whoa, repurposed and budget friendly? There are others that think like I do?" I was sold on Tracie and her blog!
Lizmarie Blog-Lizmarie was the key motivator in my falling for furniture distressing.  She has some mad skillz (ignoring spell check) for furniture makeovers.  Her blog is just pretty to look at!  She has a great mix of shabby chic and contemporary, all with a comfortable 'lived in' feel.  Her Eclectic Plate Wall post is so fun!  Aqua, yellow, and white—um FABULOUS!
There you have it, our first (and still ongoing) blog crushes.  Thank you to my fellow bloggers and friends for your contributions!
Now it's your turn to dish…who was your First Blog Crush blog crush?
Linking up here and..