Hey, hey!  So it finally cooled down a bit out here!  It was in the low 80's today, and it felt like heaven!  I do I hear that there's a warming trend coming up this weekend, but hey I'm staying in the moment!
Earlier this week I posted about my 
fall mantel
, and how easy and inexpensive it was to throw together.  
Most of the items were from around my house, with the exception of the pumpkins, which are from Michael's (which I adore).  I got creative with the glass vases, repainted some old pillars, and made a 'fall' sign out of wood blocks to complete the look.
The block letters are by far my favorite part of the mantel!  I know I'll use them year after year!  
If you're looking to add a rustic touch to your mantel this year, you can make your own version of these blocks!
How to a Make Rustic Wood Blocks Sign 
Wood block scraps

Stain

Access to a computer and printer OR a vinyl cutter

Paint

Paint pen

Foam brush (angled)

Sand paper 
I have a large pile of these in my garage, so I just grabbed a few from my stash (you can get these from any home improvement store).  I lined them up in the order I wanted to use them, since they are different heights and widths.  I loved this quality about them, only to realize after the project was completed that I didn't follow the height order I had originally wanted.  Sigh.
I used my orbital sander (a.k.a. my BFF) to get these super smooth in no time, but you can sand by hand if you like.
Smooth like a baby's bottom:)
I chose a dark walnut shade of stain, and covered each piece in a light coat.  I used a paper towel lightly dipped in the stain, and just smoothed it on.  Let this dry over night or at least a few hours.
I could have used the chalk method that I'd used when making this LOVE sign a few months ago, but I opted to just print out the letters (font was 'courier new', size was 200 pt.), cut them out, and taped them on each block.
Other options are to use a vinyl cutter (like a Silhouette or Cricut), vinyl stickers, or the chalk method I mentioned above.  
Using a paint pen I simply traced the letters.
I carefully painted around the letter's lines with an angled foam brush, and then filled the rest in (correcting any mistakes with the paint pen).  If using vinyl stickers or a cutter you could just paint over the whole thing in one fell swoop!
To 'antique' the bright white, I went over the blocks with a light coat of stain, and wiped it off right away.  
The white took a couple of coats to cover the dark stain.  Once that was dry, I went at it with the sand paper.  Focusing on the edges, and over the letters to smooth out any transition between the stain and paint, and making sure to sand in the direction of the grain.  
To seal it I added a coat of polyurethane (in a satin finish).  I let them dry for about 10 minutes because I just couldn't wait any longer, and gently placed them on my mantel, where they finished the drying process 🙂
If you are familiar with my blog, you know I love the beat up and distressed look on wood, so I am especially enjoying the natural imperfections in these blocks.  The wood grain showing through the white is my favorite part of this project—I think it adds so much more character than if the letters were to have just been painted on.  
Now that my fall mantel is complete, I'm getting ready to work on the front porch! 
  Linking up here!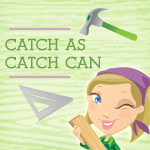 It's So Very Cheri