I'm so excited that the Fall season is here!  Even though the weather is still in the triple digits around here, there's just something 'fallsy' in the air (yup, made that one up).  Could be the leaves starting to turn a reddish hue, or could be the Pumpkin Spice Lattes at Starbucks I keep picking up!  
I wanted to decorate my Fall porch on the first day of the season, but honestly it was just too hot to be out there!  I decided I'd work on my Fall mantel instead.
This year I thought I'd go with a mostly white mantel.  I went to Michael's and picked up a few faux pumpkins — I know, you're shocked I didn't hit the thrift store for these, aren't you?  Well, I did!  No luck though, so I went to Michael's with 40% off coupon in hand!  
With mostly items I 'shopped' for in my home, or made myself, I was able to decorate my Fall mantel in no time!
Decorating my mantel for Fall
My favorite part of the entire vignette, is the DIY 'Fall' blocks, I whipped up. They're made out of
 scrap wood, stain, and paint (c
ome back later this week for the tutorial)!
To 'anchor' the sides I went with glass vases.  Glass can give any decor a touch of 'fancy' and, I just love the crisp, classic look of  clear and shiny glass!  I shopped the other rooms of my house for these inexpensive vases and filled them with faux gourds, Spanish moss, and pine cones.  I turned them over, so that I could sit a flat bottomed pumpkin on top.  
The tall pillars are garage sale finds.  They're a sturdy and beautifully embellished wood, that I had painted red a few months back, and had been using in my foyer.  I have plans to re-do that space so I stole borrowed the pillars and painted them a glossy white. Notice I didn't distress them–go ahead be proud of me!  The details are just too pretty to mess with!  I also 'borrowed' the shorter porcelain pillars from another room.  
That twine wreath was just sitting in my craft supply closet waiting for some love.  I wrapped some damask fabric I had left over from the front door fall wreath, and literally just folded it over to look like ribbon.  It will be unfolded and used for some other project later!
The mirror and family sign were already up there, and I love them, so I decided to work around them, and I'm glad I did! 
Overall, I'm really happy with how my 'white' fall mantel turned out, so I'm now planning on a 'winter white' Christmas!  
Do you 'shop' the rooms of your house for holiday decor? 
Remember to stop by later this week to get the tutorial on the 'Fall' blocks!  
Have a great week!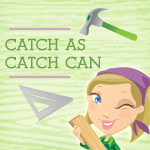 It's So Very Cheri